P.T.H. "COMPART" Zbigniew Dziembowski
, PL 44-100 Gliwice , ul. Gen.J.Sowińskiego 5 , (IMN - Budynek C)
Tel:
(+48) 322 380 680 |
Fax:
(+48) 322 380 680 |
Mobile:
(+48) 322 380 680 |
Email:
compart (at) soyer.info.pl
P.T.H. "COMPART" Z.Dziembowski | Tel./Fax: (+48) 322 380 680 | Email: compart (at) soyer.info.pl
News
Federal Innovation Prize 2016
New welding gun wins German Federal
Innovation Prize 2016.
Heinz Soyer Bolzenschweißtechnik GmbH has
won the Federal Prize 2016 for Outstanding
Innovative Achievement in the Craft Trades at
this year's craft trades fair in Munich.
The prize was awarded for their innovative
stud-welding gun PH-9 SRM+G, which was
exhibited at the fair. Thanks to the integrated
earth connection, the requirement to use
separate earth clamps when welding is now a
thing of the past. The time-consuming and
awkward process of fastening two separate
and symmetrically arranged earth clamps to
the workpiece has become superfluous.
The mass transmission now takes place via a
contact ring spring-mounted on the support
tube. In combination with the SRM®
technology developed by Heinz Soyer GmbH,
this prevents the dreaded blowing effect with
one-sided concentration of beading and
unsightly scorching on the workpiece.
This technical innovation spelling major
reductions in the workload as well as a
marked improvement in product quality and
safety is currently awaiting a patent (No. 10
2015 221 384.6).
Since 1989 Heinz Soyer GmbH has been
awarded the German Federal Innovation Prize
twelve times.
More mobility and flexibility in
stud welding – Heinz Soyer
wins innovation award
At the Euroblech 2016 trade fair in Hanover,
Heinz SOYER presented the possibility of
welding oversized M16 studs with a mobile
miniature device in pocket format.
In conjunction with the stud-welding inverter
BMK-12i, the newly developed welding gun
PH-9 SRM16 allows you to weld studs made of
steel and stainless steel up to M16 onto thick
and thin metallic workpieces without using
ceramic rings and thus to achieve first-class
welding results without weld bead and weld
splatter. In addition, thanks to an innovative
gas shroud on the PH-9 SRM16 welding gun,
shielding gas consumption was reduced by up
to 90%. More than 10,000 welds (HZ1-8mm)
can now be performed with 2 litre mini gas
bottles and large, heavy and classic gas
bottles are thus a thing of the past. Since the
BMK-12i welding inverter was also reduced to
a minimum in size and weight (7.8 kg) and the
total system has drastically reduced energy
consumption thanks to innovative technology,
there are hardly any limits anymore to
mobility, flexibility and the possible
applications of all types, such as in
mechanical engineering, container
construction, vehicle construction,
shipbuilding and apparatus manufacturing.
A patent was recently applied for this
innovation (Pat. No.: DE202016100923), which
was given the "Award zur Euroblech"
innovation award in the "Joining Technology"
category at the Euroblech trade fair.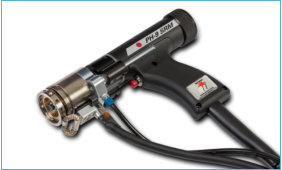 CD stud welding gun PS-2KS
The variable technology makes this gun ideal
for different stud welding tasks - whether on
problematic surfaces or delicate parts,
whether steel, stainless steel, aluminium or
brass. The innovative system changeover on
the gun body allows switching between gap
and contact welding in a matter of seconds.
Welding range: Studs and pins from M3 - M12
or 2 - 12 mm. Material: Steel, stainless steel,
aluminium and brass.
Patent pending - No.: DE 10 2013 201 463 A1
Bavarian State Prize 2013.
Federal Innovation Prize 2014
Heinz Soyer Bolzenschweisstechnik GmbH
received the Bundesinnovationspreis, one of
Germany's most coveted innovation prizes for
the eleventh time at this year's international
Handwerksmesse in Munich, a trade fair for
the crafts and skilled trades.
This innovation prize recognizes SOYER's
mobile stud welding station HesoMatic-9
which combines energy source, control unit
and feeding unit in one compact housing.
Further advantages of this new technological
development are:
• Requires 50% less space owing to a compact
design in a single housing
• No cumbersome and time-consuming
manual feed
• Maximum operating comfort and significant
time savings
• No elaborate cabling between units, thus
minimizing the risk of error and susceptibility
to damage
• Large diameter feeder bowl of 300 mm for
long studs and large filling capacities
• Trouble-free transport due to stud feed via
steps and low-noise operation
• Long service life due to high-grade,
hardened and ground mechanical
components
• One-piece casing as a protection against
welding spatters, dirt and noise.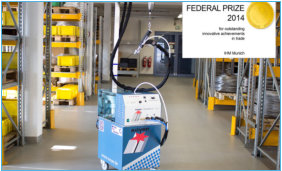 Innovation Prize -
Silesia WELDING for
P.T.H."COMPART"
Zbigniew Dziembowski
P.T.H. " COMPART " Z.Dziembowski
received the innovation award, one
of Poland's most coveted innovation
prizes, at International Welding Fair
"Silesia WELDING" in Sosnowiec.
This innovation prize recognizes
SOYER's stud welding station BMK-
16i which combines energy source
and SRM control unit in one compact
housing.
This multi-universal welding inverter
is ideally suited for different welding
procedures such as stud welding, nut
welding, electrode welding and TIG
welding.The patented SRM stud and
nut welding process (patent no.: 10
2004 051 389), in conjunction with
the innovative HZ-1 universal weld
stud featuring a plane end face and
centering tip (patent no.: 10 2006
016 553) enables welds at a sheet
thickness to stud diameter ratio of
1:10 instead of 1:4 as previously. In
this process, the use of ceramic rings
is no longer needed.
The numerous advantages delivered
by the SRM procedure open up
whole new possibilities for
application especially in automated
stud welding plans and large-scale
component production.
P.T.H. "COMPART"
Zbigniew Dziembowski
celebrates 25th
anniversary
On this occasion we would like to
thank our customers and business
partners for the cooperation and the
trust you have placed in our
company during the past 25 years.
We look forward to continuing our
mutually beneficial relationship for
many years to come.
With two decades of expertise in the
field of high-speed fastening
technologies, we offer the entire stud
welding product range from a single
source . We are aware of our
responsibility to market products
which function reliably and over the
long term, thus optimally meeting
customer needs. Product
innovations and optimisations are
the key factors for success of our
company.